A Short History Of St. Ursula's
St. Ursula's Girls' Anglican School was first established in 1852 but was known for one hundred years as St. Vincent Street E.C. School. It was rebuilt in 1952 and given its current name. Boys constituted part of its infant population from its inception up to the mid-eighties. It is now an all-girl institution. St. Ursula's, the only school on St. Vincent Street, Port of Spain, will celebrate its one hundred and sixtieth anniversary in 2012.
The name St. Ursula's was bestowed in honour of a very courageous young girl died a martyr defending her religious beliefs. It is hoped that her life will positively influence those under our tutelage.
As an Anglican primary school, St. Ursula's has always come under the purview of the Anglican Education Board of Management. The Board supplies teachers and collaborates with the Ministry of Education to effect repairs to the building. Religious services are conducted regularly either at the school or at All Saints' Anglican Church. The Rector of All Saints' Anglican Church is the Manager of the school.
Our approach to education
Vivamus dictum tortor quis nibh sollicitudin venenatis. Quisque eleifend tincidunt lectus id lacinia. Sed dignissim adipiscing eros aliquet pellentesque.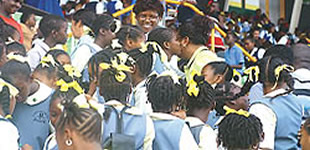 ---
Teachers

Sofia Elliston

- Pre K Teacher
Donec eros lectus, volutpat ac commodo et, commodo eget urna. In vestibulum metus non eros sodales.

Lenore Kittredge

- Pre K Teacher
Curabitur fringilla nisi et ante auctor facilisis nec ac turpis. Nunc diam dolor, suscipit sit amet imperdiet vel.

Carmella Warring

- Pre K Teacher
Fusce accumsan porttitor mi, sed fermentum eros feugiat a. Nunc sed nisi felis, ac condimentum lorem.

Julianne Heintzman

- Pre K Teacher
Vestibulum dapibus elit nec tellus egestas tincidunt. Cras pretium elementum sodales.